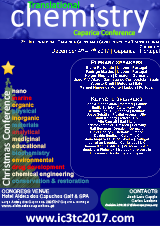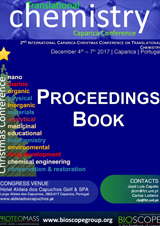 Dear Colleagues and friends,
From the very beginning, Chemistry started with Alchemy and it has been the mother of all Sciences, always walking hand in hand with Physics. Chemistry is everywhere in our daily lives, in our foods, in our cloths, living in our houses and affecting our health. We are mainly Chemistry.
Currently, the chemistry science integrates all its small areas: organic, inorganic, analytical and physical chemistry; and the most specific areas: biochemistry, environmental chemistry, chemical engineering, materials chemistry, nanochemistry, pharmaceutical chemistry and medicinal chemistry among others. Chemistry impacts the economical development of countries and continents.
However, knowledge of Chemistry has also been misapplied, as well as, as Chemistry has facilitated the misuse of pesticides and fertilizers, general global contamination, unhealthy artificial food, etc.
The Second International Christmas Caparica Congress in Translational Chemistry IC3TC-2017 is intended to be an International forum to share the most recent knowledge in Translational Chemistry, to help defend the name of Chemistry worldwide and to acknowledge the value of Chemistry, a central science for a better living.
The conference venue is located in one of the most beautiful places in Europe, Lisbon, Portugal and its surroundings. During Christmas time, the month of December, the location Lisbon-Caparica is bright and warm, making it an ideal place to spend a nice couple of days.
And last, but not least, we have some of the best in the arena:
Plenary Speakers
Elvira Fortunato, PhD

Director of the Institute of Nanomaterials, Nanofabrication and Nanomodeling (i3N) and of CENIMAT, Materials Science Department, FCT, Universidade Nova de Lisboa, Lisboa (Portugal)

Where science fiction meets reality? With metal oxide semiconductors!

Rodrigo Martins, PhD

President of Materials Science Department, Materials Science Department, FCT, Universidade Nova de Lisboa, Lisboa (Portugal)

Exploiting paper for the next generation of interactive surfaces

Holger Stephan, PhD

Helmholtz-Zentrum Dresden-Rossendorf, Institute of Radiopharmaceutical Cancer Research, Dresden (Germany)

Radiolabelled Nanomaterials for Imaging and Treatment of Cancer: Quo Vadis?

Jose Manuel Vila Abad, PhD

Department of Inorganic Chemistry, Faculty of Chemistry, University of Santiago de Compostela, Santiago de Compostela (Spain)

PALLADACYCLES: SERENDIPITY STRIKES AGAIN

Alberto Credi, PhD

Chemistry Department, University of Bologna, Bologna (Italy)

Light on molecular devices, machines and materials

Manuel Nunes da Ponte, PhD

Department of Chemistry, LAQv-REQUIMTE, Faculty of Science and Technology, Universidade NOVA de Lisboa, Caparica (Portugal)

Green natural product processing
Keynote Speakers
John A. Capobianco, PhD

Department of Chemistry and Biochemsitry, Centre for Nanoscience Research, Concordia University (Canada)

Near Infra red light activated photoswitching

Emilia Bertolo, PhD

School of Human and Life Sciences, Christ Church University of Canterbury (UK)

Integrating teaching, research and knowledge exchange in the undergraduate curriculum

Cristina Iuga, PhD

Head of Pharmaceutical Analysis Department,Coordinator of Metabolomic/Proteomic Department, Research Center for Advanced Medicine – MedFuture, University of Medicine and Pharmacy "Iuliu Hatieganu"(Romania)

Biopharmaceuticals analysis: advances and future directions

Mark Moloney, PhD

Department of Chemistry, University of Oxford (UK)

Natural products as inspiration for new chemistry in antibacterial and materials science

Vito Capriati, PhD

Università degli Studi di Bari "Aldo Moro", Dipartimento di Farmacia-Scienze del Farmaco, Consorzio C.I.N.M.P.I.S., Bari (Italy)

Natural Deep Eutectic Solvents: The Perfect Springboard Towards a Sustainable Future

Kristof Zarschler, PhD

Helmholtz-Zentrum Dresden – Rossendorf, Institute of Radiopharmaceutical Cancer Research, Dresden (Germany)

Active tumor pretargeting using peptide nucleic acid bioconjugates as complementary system

Ralf Bergman, PhD

Helmholtz Zentrum Dresden Rossendorf, Dresden (Germany)

Multimodal in vivo imaging of nanoparticles in preclinical research

Didier Boturyn, PhD

Université Grenoble Alpes-CNRS, Grenoble (France)

Design of RGD peptide conjugates for imaging and therapeutic applications

Davide Bonifazi, PhD

School of Chemistry, Cardiff University, Cardiff (UK)

Supramolecular chemistry at biological interfaces

Maria Amparo Faustino, PhD

Department of Chemistry, University of Aveiro, Aveiro (Portugal)

Recent synthetic approaches for the development of photosensitizers for photodynamic therapy

Jonathan Nitschke, PhD

University of Cambridge, Department of Chemistry, Cambridge (UK)

TRANSFORMATIVE CAGES AND LUMINOUS CHAINS: FUNCTIONAL SYSTEMS THROUGH SUBCOMPONENT SELF-ASSEMBLY

Ramon Martinez-Mañez, PhD

Instituto de Reconocimiento Molecular y Desarrollo Tecnológico (IDM), Universitat Politècnica de València – Universitat de València, Valencia (Spain)

Gated materials for advanced biomedical applications

Magdalena Plebanski, PhD

Department of Immunology and Pathology and Division of Therapeutics and Regenerative Medicine, Monash Institute of Medical Engineering (MIME), Monash University (Australia)

Synthetic nanoparticles as immune modulators: vaccine carriers, adjuvants and more

Shigeyoshi Sakaki, PhD

Fukui Institute for Fundamental Chemistry, Kyoto University, Kyoto (Japan)

Theoretical Chemistry of Complex System of d Element: From Molecule to Functional Materials
The Oral Contributions can be viewed here
Yours truly
J. L. Capelo
C. Lodeiro
Conference chairs
On behalf of the organizing and scientific committee
Conference Subjects:
Inorganic Chemistry.
Organic Chemistry.
Analytical Chemistry.
Physical Chemistry.
Chemical Engineering.
Nanochemistry.
Materials Chemistry.
Biochemistry.
Educational Chemistry.
Medicinal Chemistry.
Conservation of Cultural and Heritage Chemical studies.
Marine Chemistry.
Drug Chemistry development.
---
Warning for participants
Please note that Exhibition Housing Services, Exhibition Housing Management and Trade Show Housing do not represent the PROTEOMASS Scientific Society nor BIOSCOPE group, nor have PROTEOMASS Scientific Society or BIOSCOPE Group authorized them to use their names or trademarks on information they send out to participants.
---
Be aware of cold calls from Convention Hotel Services (CHS) or from someone named Adam Max! A company called CHS (Convention Hotel Services) is calling or e-mailing attendees of conferences worldwide, claiming to work for the conference organizers and asking for credit card details to finalize the booking of accommodation. If you receive such a call or e-mail, do not give away any personal information or credit card details! None of the parties involved in the organization of IC3TC 2017 is working with CHS. 
We look forward to seeing you soon.
With kindest regards
The BIOSCOPE Team
---
MIND!!: Booking must be done directly with the HOTEL. Internet or travel agency bookings do not included meals and social events. See the Venue Registration section for more information.
Booking through the Internet and/or travelling agencies will imply additional cost for meals:
        • 15€/lunch/person/day
        • 22,50€/dinner/person/day
           no social events